Description
Our Ultimate SEO Package includes all 8 of our amazing plugins bundled in one package.
Essential SEO Manager
Redirect Management
404 Monitor / Search 404 & Disavow Editor
OpenGraph & Twitter Tags Social Media
Super Page Cache & Compress
Schema SEO
SEO URL Generator/Checker
XML Sitemap Generator
Essential SEO Manager
Our Essential SEO module gives you and your SEO department the ability to manage your meta titles / descriptions URLs and more in one effective but simple interface, whats more is our pixel calculator gives you real-time feedback of the space limits of your meta title and meta description for Google search.
Our plugin also hardens your SEO by making sure bad links do not work, duplicate links are canonical automatically to one page and duplicate content is avoided, the plugin also lets you manage canonicals and nofollow, noindex. You can see and edit everything in one easy to view list.
Essential SEO has an easy one place management interface to help keep track of all of your pages, which will also come in really helpful in identifying which pages have no descriptions or titles set, or indeed have poor URL structure. Within the panel you can also filter down through the products and categories to find exactly what you're looking for.
Using all of the above options you can clearly see and monitor your sites structure for URL's and set pages or sections of your site to not be crawled or indexed by search engine bots.
This plugin also implements correct default canonicals, which unfortunately the default opencart completely gets wrong!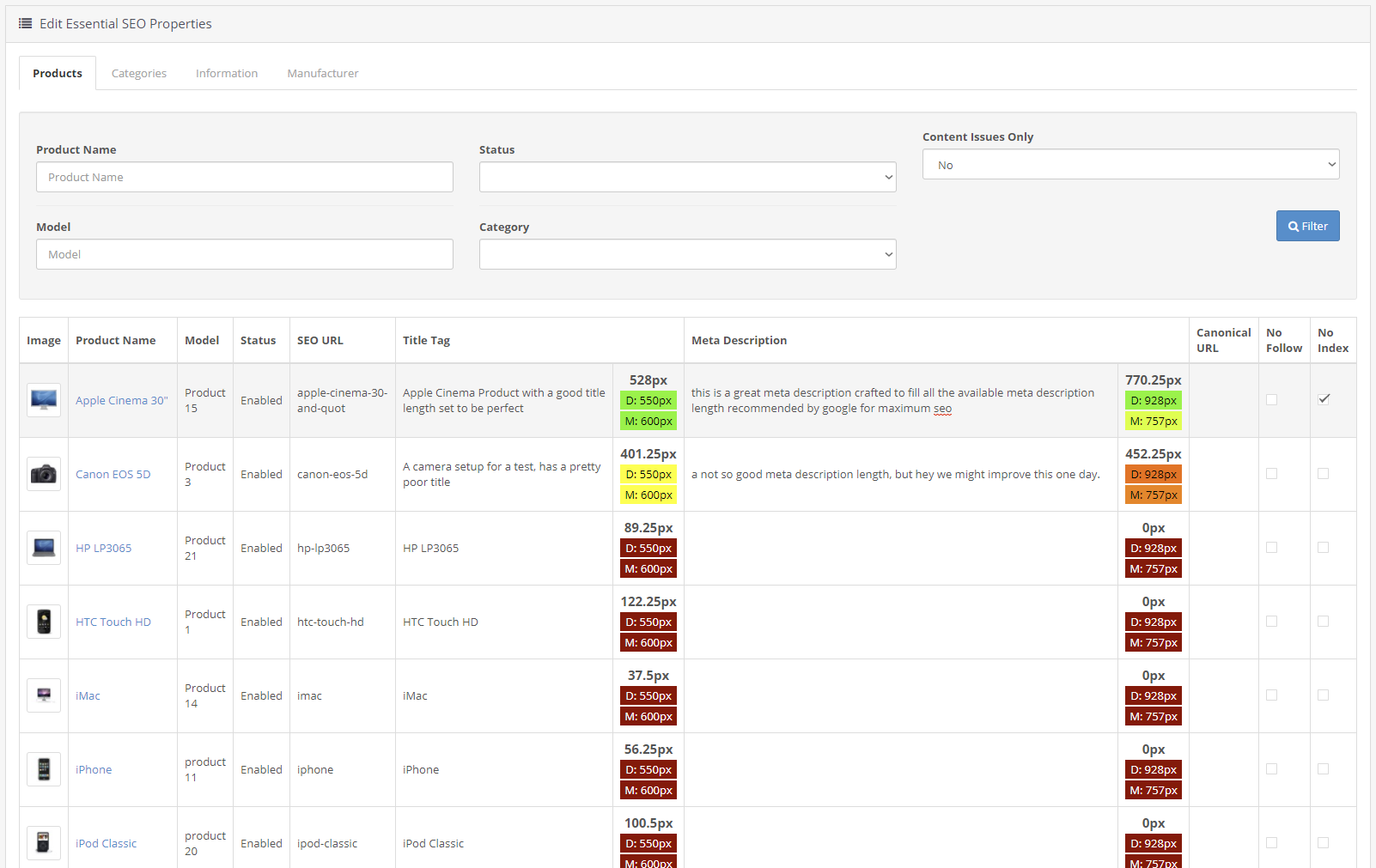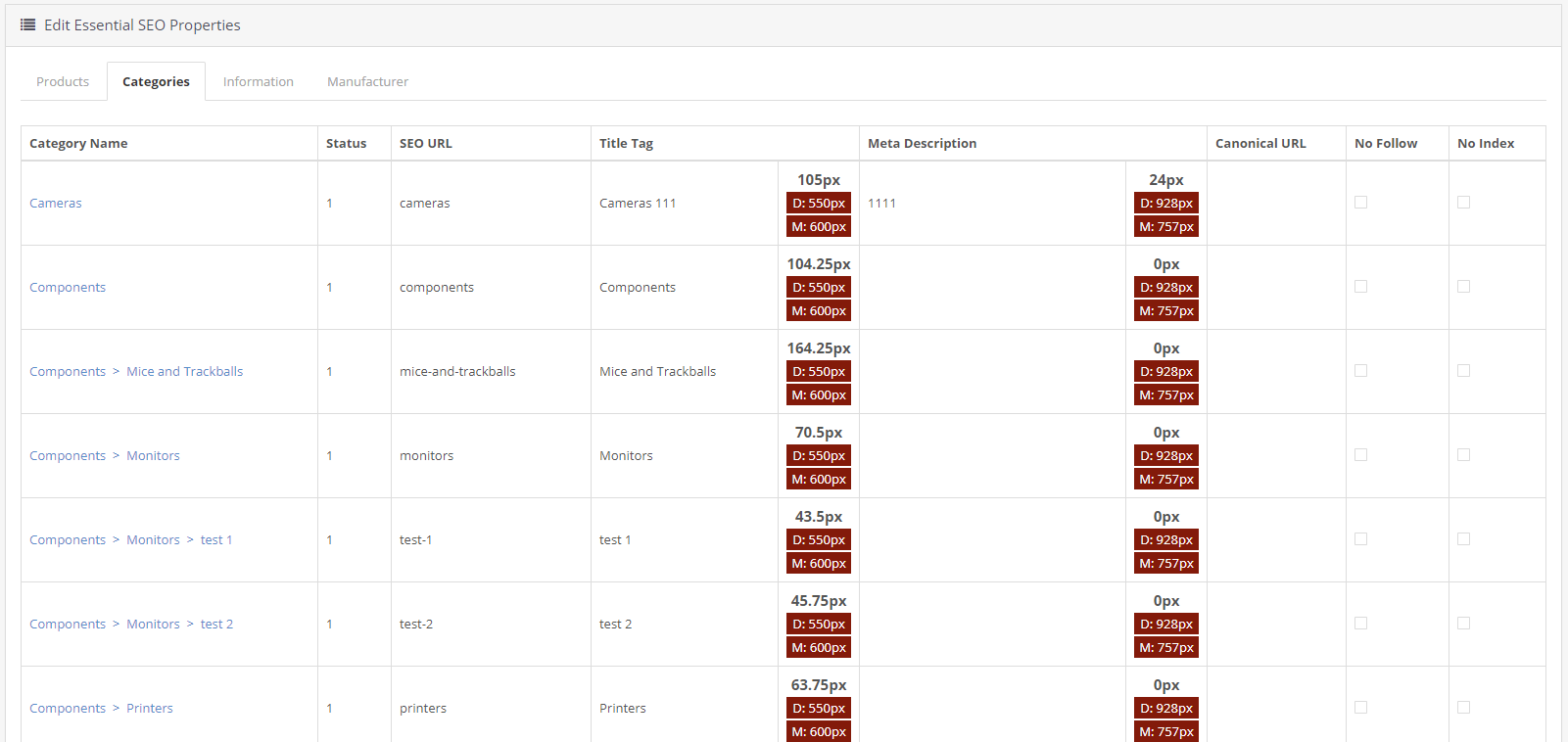 Redirect Management
Manage your redirects in one easy to use intuitive panel – packed with features such as ability to import/export to a convenient CSV, categorize redirects for easier management and ability to search redirects. All redirect code conforms to SEO best practices. using 301 redirect headers.
Create and manage your website redirects from one easy to use panel,segregate redirects into set categories such as 'Products', 'Categories', 'Pages', 'Miscellaneous' and 'Automatically Added'
Really simple, clear and concise management panel with paginated tabs and ability to search redirects using from to to url, so you don't get overloaded with all of your redirects.
Easy to add and remove any redirect link
Any products categories or pages that get removed from the Opencart system will automatically have a redirect set up to go to the homepage so a user is should never be sent to a 404 page from any old URL's or links.
You can also filter the redirects so you can see exactly what is coming from which page or see all of the links that are redirecting to a certain URL on your website.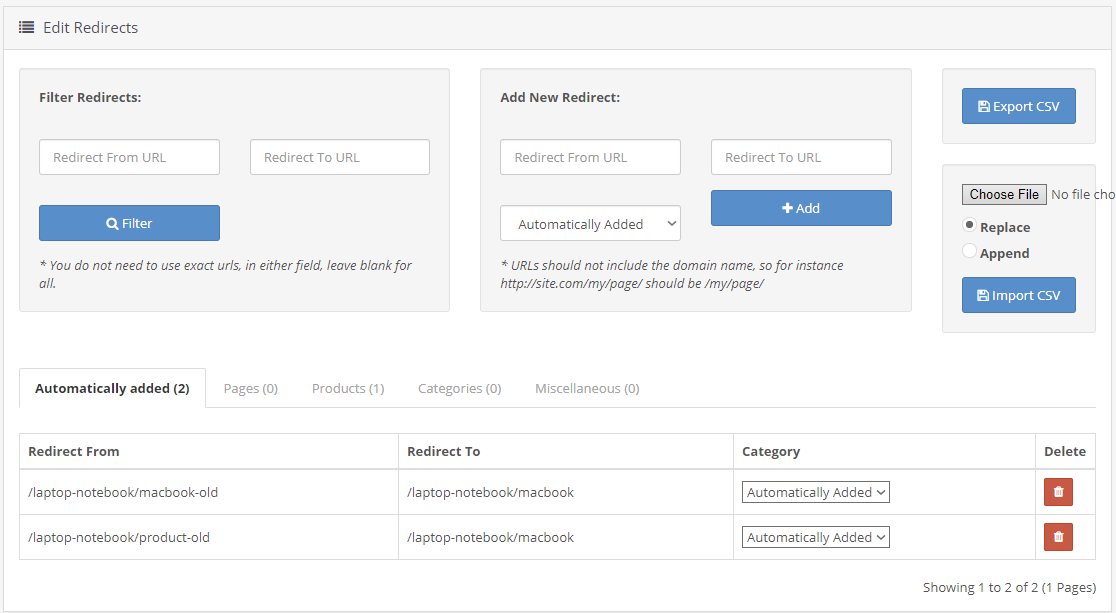 404 Monitor / Search 404 & Disavow Editor
Monitor your 404 Pages and 404 Searches in an intuitive dashboard, a vital tool to ensure your customers get to where they want to go frustration free. See 404 URLs and referrals as well as last access attempt, times accessed and referrer.
Ability to monitor 404 Searches, this is searches that have returned 0 results, extremely useful for catching common spelling mistakes, or missing terms from your product data that customers are using to try and find your products.
Show an image when a 404 Image is detected – Dont show broken images on your pages, display a "missing image" instead! Mostly useful when third-parties link to your images – advertise your business with a custom 404 image!
Our 404 Monitor plugin has the following great features:
Monitor your 404 Pages & 404 (No Results) Searches
Get periodic email alerts with list of top 404's at a defined interval
Ability to search your 404 list
Ability to ignore various url patterns as required
Export your reports in a handy CSV file for further analysis
One click to create a redirect in our Redirect Management plugin
setup, store and edit your DISAVOW in one location for submitting to Google
setup a 404 Image for missing images (useful when external sites embed your images into their pages and they disappear)
One-click check if a 404 is fixed or still persistent
This plugin is essential for discovering issues with your website structure, pages that you deleted that may still be linked to by other websites and more…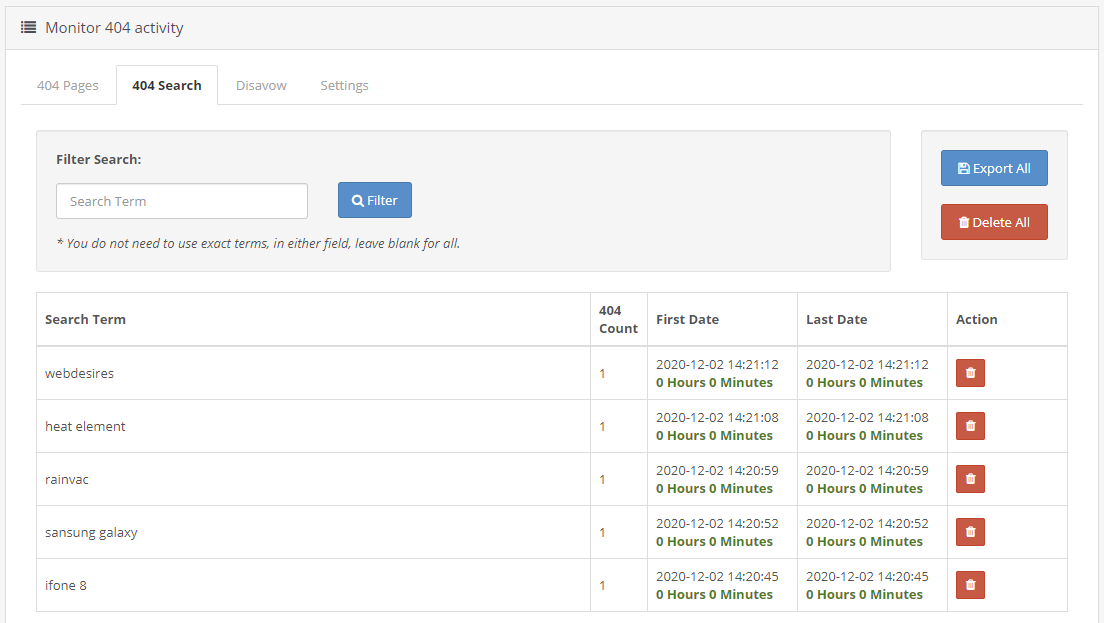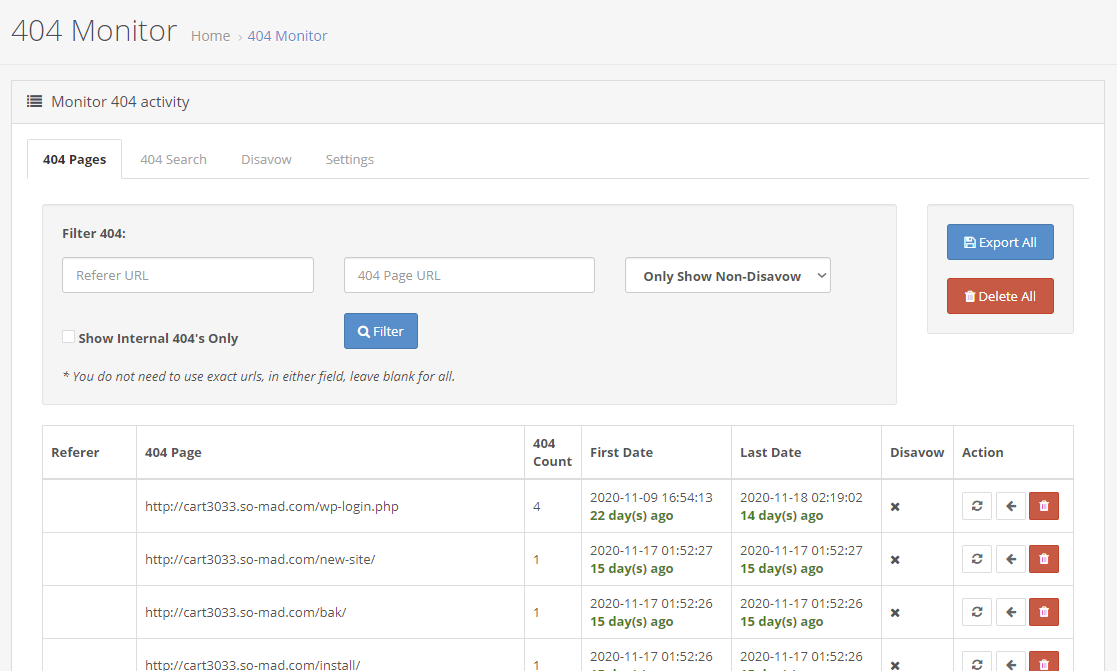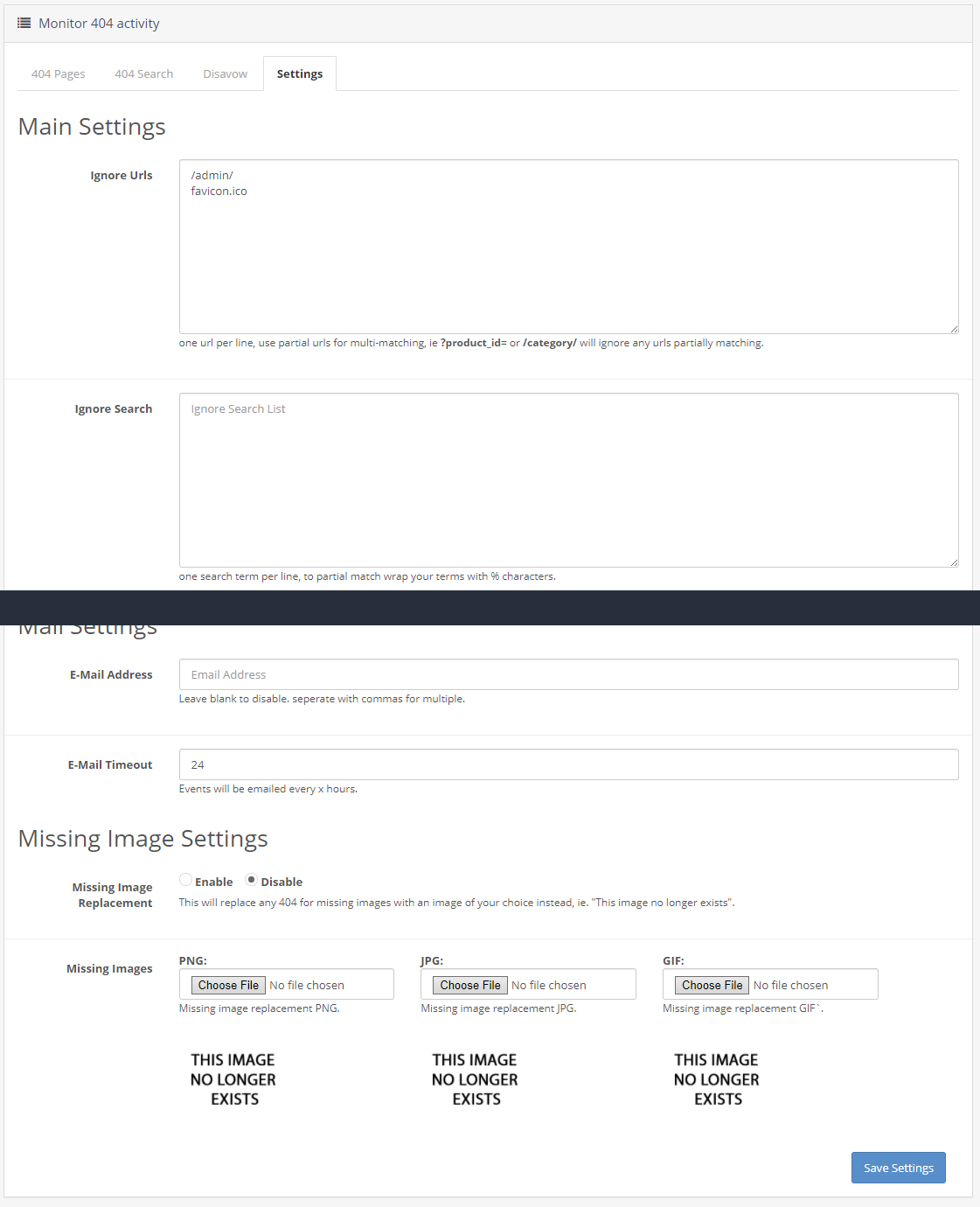 OpenGraph & Twitter Tags Social Media
Our Social Media SEO module adds rich markup to your opencart site, Open Graph / Twitter cards. You are also able to modify the default content used for your OG/Twitter tags including the description and image. This is highly recommended for boosting your Social presence, anyone sharing your pages on Facebook or Twitter get a nice title, picture and description relevant to the page shared – if a product is shared, pricing information is also nicely formatted in the snippet.
This plugin will implement the following social media tags:
Full OpenGraph tags
Sharing on many social media platforms such as Facebook.
Full Twitter cards tags
Sharing on some social media platforms mainly Twitter.
Using OG and Twitter Cards is an SEO best practice and some consider ESSENTIAL:
Search engines /machines can use data to better understand your content.
Social media sites generate a beautiful widget displaying page name, description, an image and if product page pricing data.
Get more attention from your customers friends when they share pages on your site!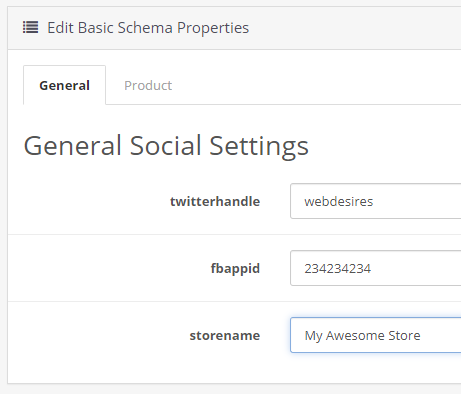 Super Page Cache & Compress – Speed Boost
Our SUPER Page Cache & Compress plugin is specially built for maximum efficiency and speed for visitors of your website, the first feature of this plugin is that it creates static caches of all the pages of your website so they can be served up to first-time visitors at lightning speed – the plugin will also effectively improve the performance of your server and database overall because visitors will no longer hammer your PHP processor or your database as they will simply be served a static HTML copy of the site until they interact with it.
The plugin can also effectively compress JS / CSS and HTML to improve speed even more. And it can also inline your CSS to improve even more the speed of your website.
Finally if you want to serve your images/css/js from a CDN this plugin has an input allowing you to switch all resources to load from your CDN instead.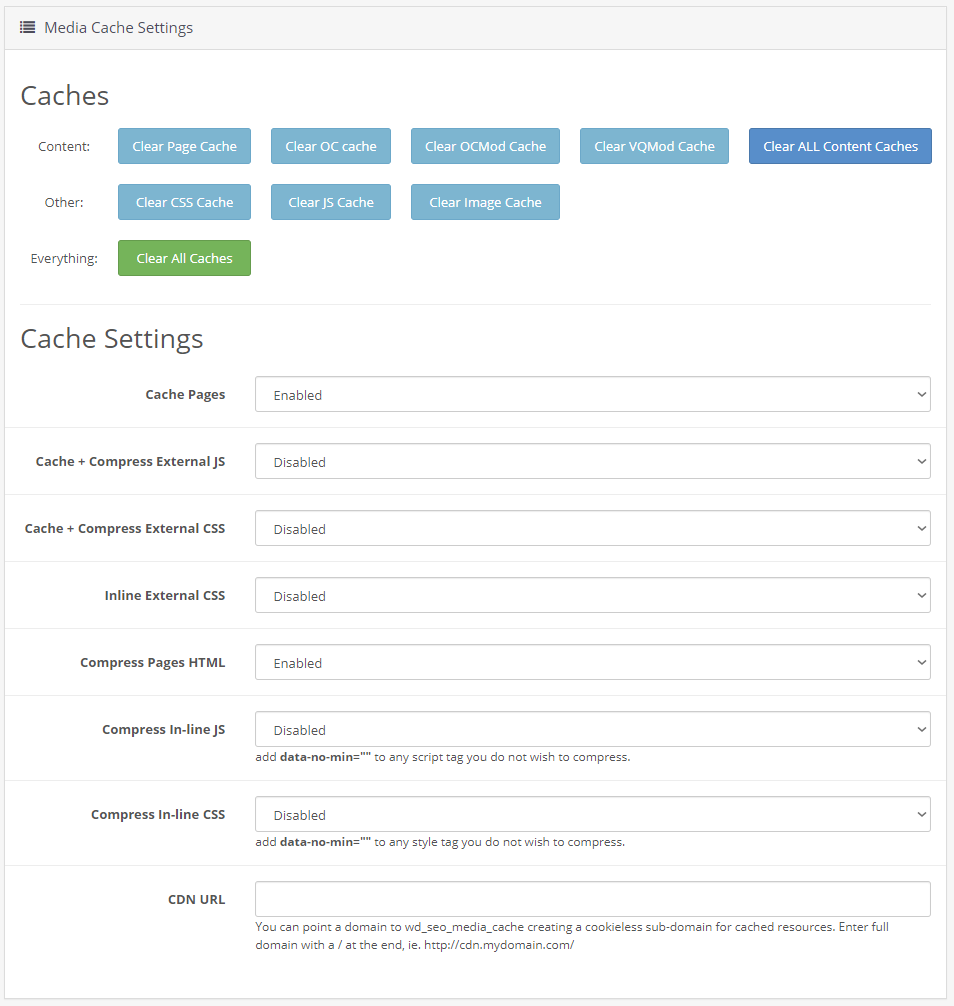 Schema SEO
Our Schema SEO module adds rich schema markup to your opencart site, including business schema, product schema and category product listing schema. You are also able to modify the default content used for your tags including the description and image.
This plugin will implement the following Schema:
Category Schema with product schema lists.
Breadcrumb schema for navigation.
Full product schema on product pages. Product name, model, price, stock status, description and image
Reviews schema.
Your business details schema for local search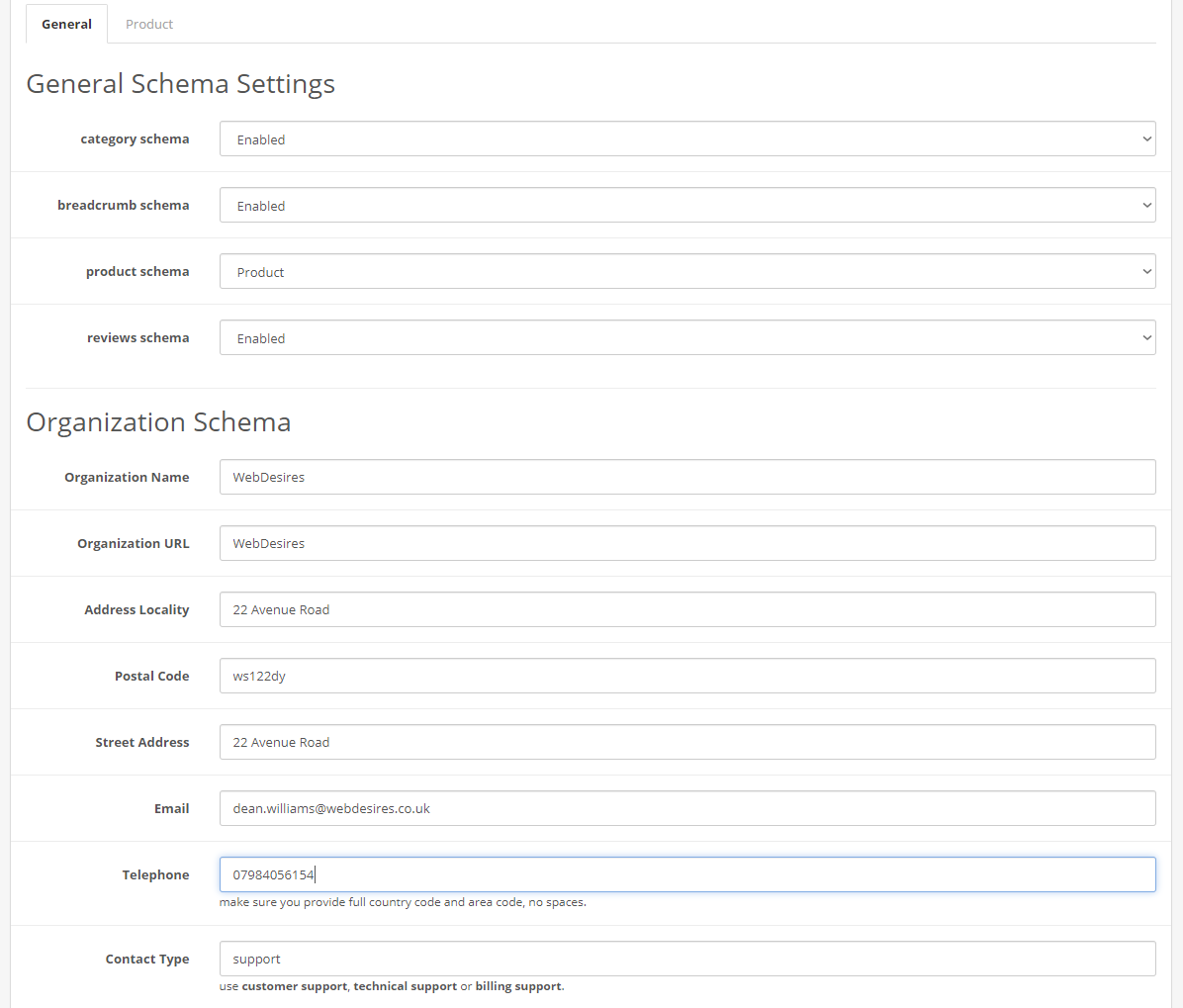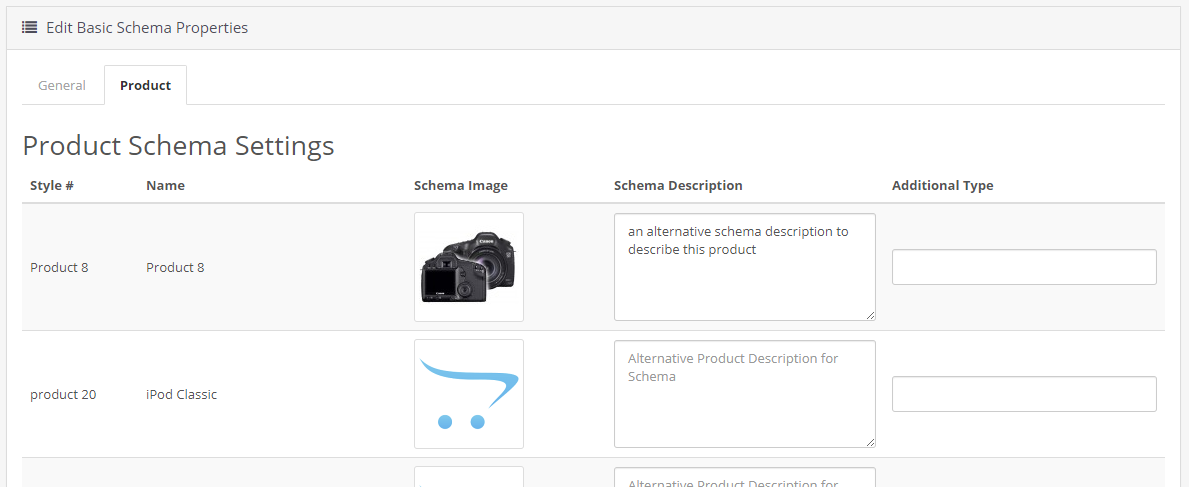 SEO URL Generator/Checker
Our SEO URL Generator plugin allows you to generate SEO URL's easily, check for missing SEO urls or SEO URLS that are incorrect (such as urls with uppercase, spaces, underscores instead of dashes and other illegal characters).
The Tool does a "Dry-Run" showing you any issues and what it will change the SEO URL to, so you can review any operations before they are performed.
XML Sitemap Generator
Generates a fully Google Compliant XML Sitemap with all products, information pages, categories and manufacturer pages. As well as also providing product images in the sitemap for better Google discovery. Sitemap can be updated manually with one-click or via a CRON.

Like what you see? Get in touch!

We have a very friendly service - Come and chat to us and let us know what you need, we work for an hourly fee and can also provide you a no obligation quote and begin work immediately in most cases. Click "Request Support" or use our Live Chat.

Request Support
SHARING IS CARING!